What does COVID mean for clubs?
In place of a brisk bustle to a classroom inside the walls of Independence, club students sit at home and type a Google Meet code into their computers. Independence is home to a wide range of different clubs, but a common thread runs throughout each this year—COVID-19 has certainly changed things.
From Class Council to VEX Robotics, National Honor Societies, Art Club and even Dungeons and Dragons Club, options for clubs at Independence are seemingly endless. In light of distance learning, change has spearheaded these organizations in vastly different ways. Several clubs present themselves as being impacted divergently and through different scopes of severity.
(To view a full list of Independence's clubs visit the directory.)
Indy Serves
Indy Serves, a service club devoted to helping those in need, is headed by co-presidents senior Dara Elbaum and sophomore Anthony Paganin, and sponsored by Dr. VonEnde Coleman. According to Paganin, "Indy Serves' mission is to participate in different community service projects and volunteer work to help aid the community." In its second year running, Indy Serves has gained a fair amount of traction. With over 100 students participating, its member count has progressed significantly.
"It's a lot harder to have meetings virtually," Paganin remarked. "There's no live interaction." Club members and leaders across the board have struck this wall. A typical year would involve in-person meetings and a chance to bond and bounce ideas off one another. Over a computer screen, this sense of connection may not remain intact.
Lack of human connection is not the only issue; poor internet connection often poses an obstacle. With meetings all online, laggy videos or lost connection have the potential to disrupt or ruin club meetings. "Once, Dara's connection was really bad, and no one could understand anything she said," Paganin explained. Though the Indy Serves leadership team was able to pull together and recount the information she failed to announce, faulty internet presents itself as inefficient and irksome.
While no in-person volunteer projects can be undertaken for Indy Serves, individual or at-home community work is still underway. In this way, Indy Serves hasn't changed in a highly dramatic fashion. For other groups, like that of Cappies critics, the whole action of the club is up in the air, and virtual meetings are the least of their problems.
Cappies Critics
In the words of the Cappies, "The Cappies is a writing and awards program that trains high school theater and journalism students to be expert writers, critical thinkers, and leaders." Each participating high school forms a critic team to watch and review shows of other schools. Additionally, each school selects a show from their own repertoire to be critiqued.
The virtual realm is a new experience not only for Cappies club members, but for the participating theater programs. The core of Cappies adjustments stems from the elimination of live theatre. COVID mandates make it impossible for a crowd to gather and watch a show, so schools are forced to take a streaming or a film adaptation approach, persevering virtually.
Consequently, Cappies members are in the same boat. Microsoft Teams calls have replaced live shows and discussion rooms. The possibility for technical issues has risen and interactions in the flesh have been lost.
In years past, the main action of Cappies would pan out in the following way. Twenty to 90 critics would attend a designated school's show. Pre-, mid-, and post- show discussions would be held to discuss technical and performative aspects of the show. Critics proceed to write reviews based on the production and engage in a steep competition to be published in local newspapers. Given the virtue of distance learning, the Cappies process has been altered drastically.
To start, COVID means condenses. Ordinarily, Cappies shows had no time limits. Chopped down this year, show lengths can range from only five to 30 minutes. Less content-filled shows results in less to discuss. "In old discussions, we would talk for hours after and have food. This year, we sit at our computers and talk for around 45 minutes," said junior Josie Binkley, the lead critic of Independence's chapter of Cappies, highlighting the significant change in the show-watching and discussion process.
Several other changes have been made to the Cappies program. In a typical year, the end of the season is marked by "a Tony's-like celebration," where "all nominated shows perform a cutting or the critics' choice song, and the final Cappies awards are presented with a trophy by regional critics and peers," according to the Cappies. No such celebration can be held this year, eliminating a great source of excitement from the whole Cappies operation.
Debate
Other extracurriculars fall into the category alike to Cappies, characterized by a switch to online for a main in-person event or regular action. Serving as an example, Senior Aadi Aggarwal, captain of the Lincoln Douglas debate team, said "Our competitions are now online, which has made it so that we aren't able to discuss rounds and how they went with each other." Tabroom, a video call program similar to Google Meet, has become the new medium for debate competitions.
Red Cross Club
On the other hand, distance learning has had a lighter touch on multiple other Independence clubs, drawing a connection to Indy Serves. For example, Red Cross Club's president junior Samantha Scott announced, "We haven't been hit too hard because we can still do things from home. Right now we're making first aid kits," portraying a lesser impact.
Even amongst the quantity of changes club activities haven't ceased or even slowed down.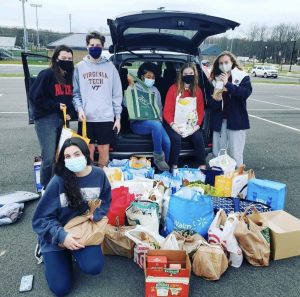 Indy Serves has already completed five drives this year. Distance learning has not kept the organization from donating over 140 Thanksgiving cards to elderly homes. Nor has it stopped them from feeding 25 families through a Thanksgiving food drive. Toys were delivered to children in hospitals, winter clothes were donated to Mobile Hope and an additional card drive occured for the winter holidays.
Independence's Cappies fulfilled their first assignment throughout the weekend of December 18-20. Woodgrove's film adaptation of "Moonshine Murders," written by Terry Smith of StageCoach Theatre Company, Inc. and adapted for film by The Grove Theatre Students, was a smash hit among Independence's critics. "I loved the film; I had a great time watching and writing my review even though it was all virtual," said junior Chrissy Martin, a critic with the Independence chapter.
By posing numerous challenges, it may seem crystal clear that distance learning has had an outweighing negative impact on Independence's organizations. To club leaders though, the waters are murky.
"I think it's both positive and negative," Paganin said, addressing distance learning. Paganin pointed to the raised member numbers as an asset of distance learning, "We have a higher turnout than ever to meetings and drives." He nonetheless identified drawbacks as the termination of in person projects and meetings.
Along the same lines, lead critic Binkley attributed both positive and negative effects to distance learning. Negatively, she too suggested the loss of in person exchange. "Critics don't get the experience of being honored guests with free tickets and food," said Binkley, "in my opinion it makes the process less fun." In a positive light, Binkley believed the Cappies community would emerge from the distance learning tunnel, a stronger program. "I think overcoming challenges will bring all of the critics from different schools together," she stated.
Change has rippled through clubs at Independence, presenting hardships, benefits, and adjustments all around. However severe the change, adaptability is the name of the game this year and Independence's clubs have found their own unique ways to succeed.