Once upon a production: ITPA opens Disenchanted! High School Edition
Though Disney princesses may not have gotten their true happily ever after, Independence Theatre and Performing Arts (ITPA) did with a successful opening night of their rendition of "Disenchanted! High School Edition."
Led by director Mr. David Noland, ITPA put on their first performance of "Disenchanted! High School Edition" last Friday, March 11, which was a hit among audiences. The weekend was scheduled to feature two more performances—a matinee and an evening show on Saturday, March 12, but due to inclement weather and the closing of LCPS facilities, the shows have been postponed to the following weekend.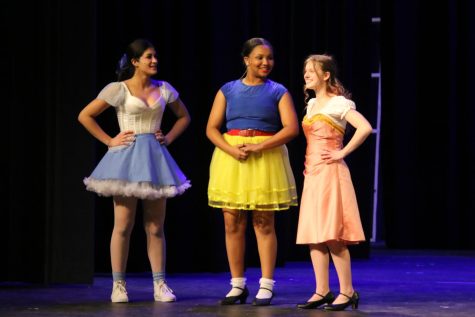 "Disenchanted!" by Dennis Giacino is a different take on classic Disney princesses' lives. It highlights 10 Disney princesses including Snow White, Cinderella and Sleeping Beauty, who take matters into their own hands and put on a show to defy "the princess complex" and tell audiences who they really are.
Rather than the dainty, "damsel in distress" princess notion, the characters share their own perspectives on their respective stories, and they have a lot to say about how they've been portrayed.
According to junior Jackie Louh, who plays one of the leading princesses, Cinderella, the show sheds light on "glossed over Disney ideals." 
Louh explained, "Disenchanted! uses satire to call out the realities of the 'perfect' Disney princesses. It allows the princesses to tell the truth about living happily ever after."
Coinciding with Women's History Month, "Disenchanted!" possesses a major theme of women empowerment, and the production features an all-female cast. Louh reflected, "The goal of the show is to empower women and young girls to be themselves without following outside expectations. We had a lot of fun in and outside of class working together to make sure the messages of the show are highlighted."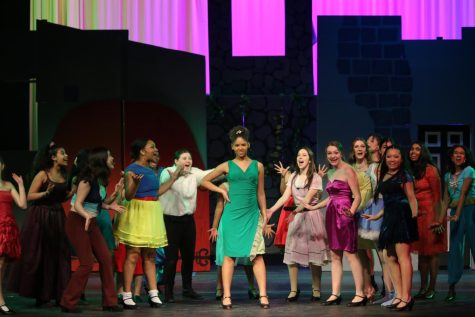 This work, and the show's undertaking as a whole, has been underway since the summer by one of ITPA's Musical Theatre classes. The production is a class show, which means the rehearsal process occurred mainly in school during Musical Theatre's 90 minute class block. 
The exception was tech week, which ventured into after-school rehearsals last week, the four days immediately preceding the opening of the show. ITPA's other Musical Theatre class produced "Into the Woods" in January, following the same pattern.
The cast and crew's avid preparation and seven month long dedication to the show was evident on stage. Ms. Michala Sockol, a math teacher, viewed the opening performance on Friday. She said, "The whole thing was really good, it was really funny and one of the best shows I've seen." 
"Disenchanted!" will continue its run this weekend with shows at 7 p.m. on Friday, March 18 and 2 p.m. and 7 p.m. on Saturday, March 19 and Sunday, March 20. The Independence community has five more chances to view a fantastic, comical show that pays perfect homage to Women's History Month, that you do not want to miss!
To purchase show tickets and stay up to date with upcoming ITPA productions, visit their website and follow their instagram (@itpaofficial).