Damar Hamlin's Path to Recovery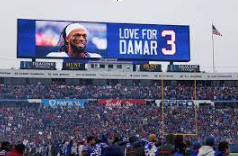 On Jan. 2, Buffalo Bills Safety, Damar Hamlin, went down due to a cardiac arrest during a game against the Cincinnati Bengals. Following the injury, the game was postponed to a later date. 
Hamlin was in a critical condition following the game. His heartbeat was restored on the field, and he was immediately escorted to the University of Cincinnati Medical Center for treatment. A couple of days later, he regained consciousness and asked the doctor, "Did we win?" The doctor responded, saying, "You won, you won the game of life." 
After showing signs of recovery, Hamlin was discharged and moved to the Buffalo General Medical Center for further treatment. The doctors conducted cardiac, neurological and vascular testing, and are unsure as to what caused the cardiac arrest. Days later, he took to Instagram to thank his fans for their support. 
The Buffalo Bills played their first game since Hamlin suffered cardiac arrest at home against the New England Patriots on Jan. 8th. The Bills running back, Nyheim Hines, caught the opening kickoff at the 4 yard line and took off up the middle of the field. He turned to the right and headed up the side line. He broke a couple of tackles on the way down the field and made it all the way to the endzone. It was the first kick return for the Bills in 3 years and 3 months. Hamlin's number is 3. 
"Hamlin FaceTimed with the team following the win before being presented with the game ball." Hamlin watched the Bills Wild Card win against the Miami Dolphins from home.
The tragic moment on the field created a lot of emotion. Players from both teams were very emotional, including Bills quarterback, Josh Allen, who had his hands over his face. Players spoke to the media and said that there was no chance they were going to be able to come back and play. 
People from all around sports were supporting Hamlin by wearing t-shirts and his jersey. Players on other teams were wearing shirts that said "Love for Damar," and "Hamlin Strong." 
People around the U.S. shared the same emotions. Independence freshman, Ian Hecker, said he "immediately felt concerned." He expressed, "I was in the basement watching the game hoping for some information on his condition. My family donated money to his charity."
Doctors say Hamlin has been walking, eating regular food and is undergoing therapy. The Bills vs. The Bengals game was canceled due to the event, and the cancellation will not have any effect on which teams qualify for the postseason.