Tatum Wall- Tigers Taking the Next Step: athletes commit to college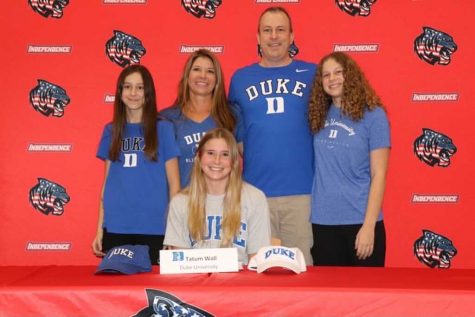 Q. What is your full name?
A. Tatum Wall
Q. What grade are you in?
A. 12th
Q. Where did you commit for college?
A. Duke [University]
Q. How long have you been playing your sport for?
A. Since I was six
Q. What has your athletic career looked like?
A. Through swimming I've traveled to 16 states, made lots of amazing friends and have competed at the highest level at the U.S. Olympic Trials.
Q. When did you decide committing for a sport was something you wanted to do?
A. When my brother committed to swim in college at Georgia Tech. It inspired me and I knew it was something I could achieve.
Q. Do you have a favorite memory from this sport?
A. My favorite memory with swimming has been meeting new people, especially my training trip to Chula Vista this fall.
Q. What are you most looking forward to in college (athletically or academically)?
A. I'm looking forward to the food at Duke's amazing dining halls.