Olivia Danley-Tigers taking the next step: athletes commit to college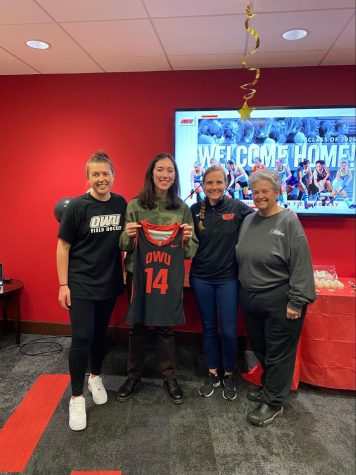 Q. What is your full name?
A. Olivia Danley
Q. What Grade are you in?
A. 12
Q. Where did you commit to for college?
A. Ohio Wesleyan University
Q. How long have you been playing your sport for?
A. I've been playing field hockey for four years.
Q. What has your athletic career looked like? 
A. I started playing field hockey in freshman year for Rock Ridge. After that first fall season, I decided I really liked playing field hockey and some of my teammates and coaches encouraged me to join a travel team. From that point, I've been playing field hockey year-round for the rest of my high school career. During this time, I've been able to compete at the national level multiple times with my travel team, and with my high school teams I was awarded all-region first team, all-district first team and all-state second team my freshman year. My sophomore year, I was awarded all-region first team, all-district second team, and loco sport honorable player. My junior year I was awarded all-district first team. And finally, for my senior year, I was awarded all-district first team, all-region first team, and all-state first team. The most important award I've gotten though has been the teammates matter award voted on by my teammates. 
Q. When did you decide that committing for a sport was something you wanted to do?
A. I had been on the fence about whether or not I wanted to continue my field hockey career, but after my senior season with the Independence team, I knew that it was something that brought me a lot of happiness and wanted it to be a part of my college experience.
Q. Do you have a favorite memory from this sport?
A. I think my favorite memory from the sport is when we beat James Monroe in a really close game. I know everyone was really stressed for the game, especially since we lost to them the year before, but when Ella Crangle scored the game winning goal and we were able to hold the lead it was just a really awesome feeling since it really felt like a game we won as a team and really came together. 
Q. What are you most looking forward to in college (sports or academics)?
A. I'm really looking forward to the competitive nature of the OWU team and getting to know all of my teammates, but I am very excited to start studying and learning more interesting subjects.