Indy Indoor Track reaches new heights at states
On Feb. 24 and 25, the Independence Varsity Indoor Track and Field Team competed in the VHSL Class 5 State Track and Field Championship at the Virginia Beach Sports Center in Virginia Beach, VA. 
The Tigers competed in over 10 events including different runs, jumps and relays. The Girls Varsity Indoor Track and Field Team finished fourth overall and two Tigers returned home as state champions.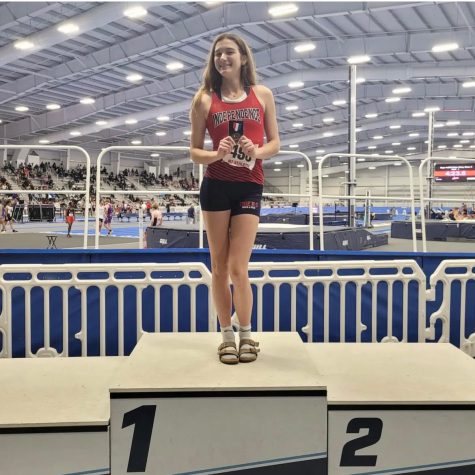 Junior Hannah Riolo placed first in high jump with a school record breaking height of five feet and six inches. "Winning states was something I never expected and when it happened, I was in shock," she expressed. "After I won, I was insanely happy and some of my teammates immediately rushed over to me to celebrate, which really made the connection in my mind that I had won."
Riolo began practicing and competing in the event of high jump only this year, prompting her surprise. Additionally, Riolo competed in the Tiger's 4×200 relay, which earned third place.
Sophomore Lauren Thomas ran the 55 hurdle event with a time of 8:11, breaking the previous school record and earning her the title of state champion. Thomas is also currently ranked 11th in the nation in the event.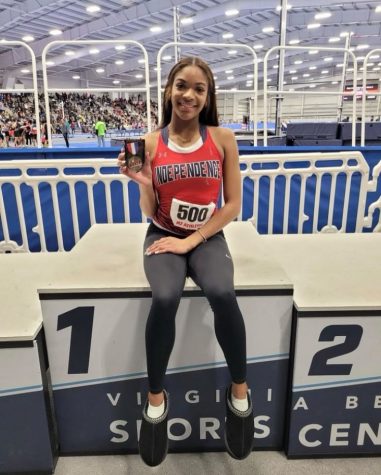 "Winning states was a really exciting and happy moment for me, definitely something I will remember forever," said Thomas, who also competed in the 300 meter dash, long jump and the 4×200 relay.
Riolo summed up the experience of the team, expressing, "It was so much fun. Being with my team for those few days and hanging out with them really brought some of us closer. The atmosphere of the track was also amazing with tons of cheering going on all around."
The state meet served as a successful wrap up to the season and segway into the outdoor track season, which began in early March.