Lebron James Breaks All-Time Scoring Record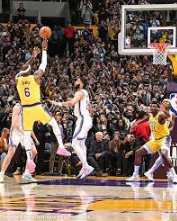 On Feb.7, NBA superstar Lebron James broke the all time scoring record in the NBA, surpassing Kareem Abdul-Jabbar, who held the record the 38 years. Jabbar had 38,387 points by the end of his career, and James passed him, scoring 38,652 points.
On the historical night, Jabbar attended the game and watched James break the record. Even though the game resulted in a loss, it was a win in the history books of the game.
After the game, standing in the middle of the arena, Jabbar gave James the basketball in a passing-of-the-torch moment. James gave a speech, talking about playing in the presence of a legend. He said, "please give a standing ovation to the captain."
James explained that he never really intended on accomplishing the incredible feat, saying, "I've always been a pass-first guy."
The fade-away shot that sealed the deal was heard all around the world, and James moved up on the leaderboard for Greatest Of All Time. Independence Sophomore William Zabrosky said James deserves the credit for being top five of all time because of being all-time scoring leader, but "he's always going to be number two behind [Michael] Jordan."
Despite his new record and him being considered the "Greatest of Al Time", there are some people who think he is in the top 10. Freshman Samuel Mbelli said that it is "a W for him," but he considers James number eight.
A couple of days prior to James breaking the record, the Los Angeles Lakers gifted Jabbar a diamond ring of a silhouette of him shooting his signature sky hook to celebrate 38 years that he had held the all time scoring title.
Lebron James isn't planning on retiring from the game until sometime in is 40s, explaining that he has a couple of more years in the tank. James has said before that he want to play with his son Bronny James, meaning that he will have to stay in the league longer.