Double tap: a breakdown of Indy's most likeable Instagram accounts
Independence High School would never be caught behind the times, especially when it comes to social media use and Instagram. From teachers to sports teams to clubs and everything in between, Independence has abounding Instagram accounts that represent different parts of our school community. 
Truthfully, if there's a group or organization at Indy, there's probably a matching Instagram account. Here's a breakdown of some of my favorite Indy Instagram accounts and what makes them totally fire.
Favorite Overall Account: @itpaofficial
School organization/group: Independence Theatre and Performing Arts (ITPA)
Account run by: ITPA Marketing Team- Samantha Scott (12), Aleena Ghori (12), Jenna Moser (11), Jackie Louh (11), Paul Hartmann (10)
1. Revolving Theme
The number one trait that sets ITPA's account apart in my mind is their ever-adapting theme. For each production that ITPA puts on, they craft a new show-related theme for their Instagram. Elements such as the colors and design of posts, the way in which information is presented, their quippy captions, and even qualities of their profile picture all tie back to the common thread, which is reflective of the show's major characteristics and aesthetic. The result is an extremely visually appealing feed that clearly distinguishes between each ITPA production and the time period in which they were being developed and performed.
Scott, head of ITPA's marketing team, explained their theme-crafting operation: "another member or I will create the theme based off of logos and the overall vibe of the show. We create a palette on Canva so we stay consistent, which usually has around four to five colors and three fonts. We use the colors to change the profile photo each show."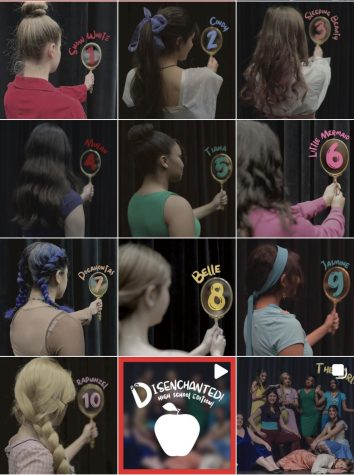 2. Countdown
Another quality that edges the account out over others is their infamous countdown. Though already very active, ITPA ramps up posting preceding the start of performances for each show. For 5-10 days before opening night, daily updates are posted to the account, numbering the amount of days left before the first performance. The countdown posts feature different leading characters and are structured to fit the theme of the show and Instagram at the time. The posts are visually attractive and serve as a great daily reminder for Independence community members to purchase tickets to the upcoming production.
3. Creativity and Engagement
ITPA's Instagram is also totally unique and extremely interactive. The marketing team displays their creativity by posting content that presents information in innovative ways and begs participation from followers. 
For their recent production of Disenchanted, the account hosted a short series called "Disenchanted Diaries," which consisted of posts structured to look like diary entries written from the point of view of some of the major characters. Along with providing information about the story and the show, the posts were humorous and entertaining to read, boosting excitement for the upcoming production. 
For Into the Woods, ITPA posted a show-themed scavenger hunt on Instagram, creating much of the same engagement and enthusiasm. ITPA also frequently makes great use of their story by posting games like wordle, trivia, guess the song, finish the lyric, unscramble the word, and others that invite participation from followers.
View this post on Instagram
Favorite Sports Team Account: @indygirlslax
School organization/group: Independence Girls Lacrosse Team
Account run by: Assistant Coach and PE teacher Mrs. Kristen Freudiger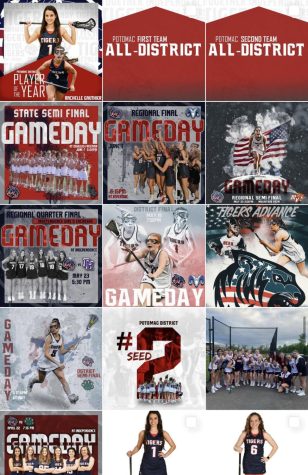 1. Color Palette
The Indy girls lacrosse team's Instagram is ruled by a distinct color palette. What better colors than the red, white and blue of Independence? Our school colors shine bright in each @indygirlslax post, reflecting school pride. The cohesion results in a uniformed look in each individual post, as well as from an overview look of the entire account. Just as red, white and blue are the uniform of Independence, they're the uniform of @indygirlslax.
2. Impressive Edits
Freudiger elevates the girls lacrosse team's Instagram game with her stellar editing skills. Posts announcing game days, score finals and other information feature cool, polished graphics that once again stick to the color palette. The fire graphics not only get players and watchers excited for games, they also create a visually appealing Instagram feed.
"I use Photoshop, but I was using Canva last year, and decided to up my game and started self-teaching myself Photoshop," Freudiger explained about her editing process for game day and other graphics.
View this post on Instagram
View this post on Instagram
Favorite Club Account: @1inds1yn
School/organization: inDYSIGN- Independence graphic Design Club
Account run by: Yoobin Lee (11)
1. Quality of Content
It's no surprise that the Indy graphic design club, inDYSIGN, has some high-caliber posts. Their account serves as a portfolio for commissioned works and other projects conducted by the club, which are all of high technical and visual quality. Vivid colors and imaginative designs are present from an account overview, and each post is pleasing to the eye, courtesy of the artistically talented club members.
View this post on Instagram
2. Creativity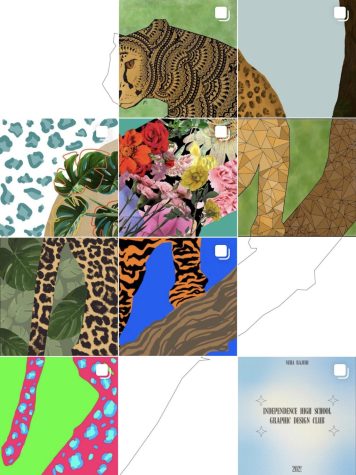 In my opinion, the best part of the inDYSIGN Instagram is a creative project that is laid out in their 12 most recent posts. Each member of the club last year was tasked with designing and creating a post that was a portion of a larger image. When the posts were put together, the fragments make a bright, colorful, vastly unique tiger. Alluring visually, and praise-worthy in creativity, the project is the star of the account.
President of the club and runner of the account, Lee described the meaning behind it, "I was inspired by the look of K-pop instagram pages for this project. I wanted to create unity during our online year and create a place where each member could leave a trace that they were part of this club in the 2020-2021 school year."
Though I only featured three, Independence has a mass of other Instagram accounts. Some other front runners in the race for quality are @indybarstool, @indyathletics_thescore, the account that started it all, @indynationlcps, and in my biased opinion, @theprowl.ihs.
To keep up with Indy's fire instagram game, follow these pages and as many others as you can from the never-ending list of Indy Instagram accounts.