Is Netflix's spin-off series "Wednesday" a supernatural success?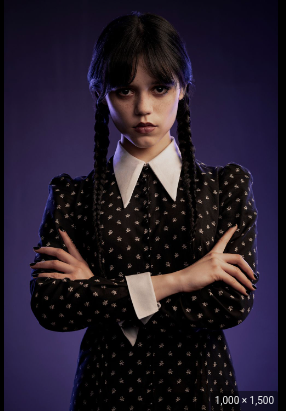 Fans of the well-known movie "The Addams Family" were intrigued with interest when Tim Burton's newest television show "Wednesday" came out on Netflix, a dramatic comedy series with a dark and mysterious tone involving the gothic-obsessed daughter of the Addams family, Wednesday Addams. 
In the show, Wednesday Addams, played by Jenna Ortega, is sent to attend a new school filled with dark secrets that linger in the shadows. The show ventures into the topics of friendship and connections, while still incorporating mystery. 
One enticing aspect of the show was the detailed plot. "I give the show a 8/10. It had a slow beginning, but the plot twists were very good, and the show picked up quickly," said freshman Caroline Smith. 
Besides having an interesting plot, Burton put great effort into the show's aesthetic and appearance. Burton and his team wanted to pay tribute back to the movie "The Addams Family" by scattering numerous Easter eggs in the show. In the pilot episode, the character played by Jenna Ortega wears a classic black dress with a crisp white collar, which is a nod to the outfit worn by Christina Ricci's Wednesday. Additionally, the stuffed bear in Principal Weems' office is a reference to the one that stood in the Addams' house in the 1964 show.
Freshman Ava Beltran was a fan of the characters in the show. "I really liked the characters in the show, I feel like Burton cast the perfect actors," Beltran said.
The show ended with a nail biting cliffhanger which left viewers shocked and eager for what is to come next.