Rachelle Gauthier-Vazquez- Tigers Taking the Next Step: athletes commit to college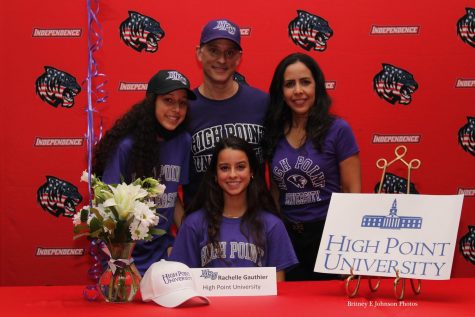 Q. What is your full name?
A. Rachelle Gauthier-Vazquez
Q. What grade are you in?
A. 12
Q. Where did you commit for college?
A. High Point University
Q. How long have you been playing your sport for?
A. 10 years
Q. What has your athletic career looked like?
A. I tried out a lot of sports as a kid but knew lacrosse was the sport I wanted to pursue. I played rec lacrosse with Dulles South as well as finding a club team that fit. The club team I decided to go with was Pride Black 2022. I've played varsity lacrosse in high school and have been a captain for three years. 
Q. When did you decide committing for a sport was something you wanted to do?
A. I've always loved the sport and known from a young age that I wanted to play in college, but I think I really put thought into it and made that decision going into high school.
Q. Do you have a favorite memory from this sport?
A. I don't have one exact favorite memory (too many to choose from). I have so many great memories from team bondings and winning important games.
Q. What are you most looking forward to in college (athletically or academically)?
A. I am excited to play lacrosse at the next level and bond with all my new teammates.