Tori Womack-Tigers Taking the Next Step: Athletes Commit to College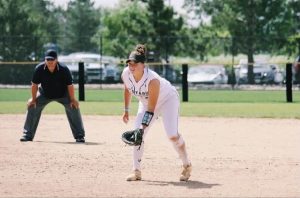 Q. What is your full name?
A. Tori Womack
Q. What Grade are you in?
A. 12th
Q. Where did you commit to for college?
A. I'm committed to Lipscomb University.
Q. How long have you been playing your sport for?
A. I've been playing softball since I was like 6.
Q. What has your athletic career looked like? 
A. My athletic career has definitely been a journey. Softball has always been such an outlet for me and just allows me to get on the field and play my best every time. Once recruiting came around, the sport got a little tougher, mentally, so I decided to add on basketball as an extra way of exercise and just a different side of the sports world. I've played varsity basketball since sophomore year, and it allows me to just have fun and work hard.
Q. When did you decide that committing for a sport was something you wanted to do?
A. I've played on a competitive travel softball team since I was 10. Around when I got to 12U, we were playing in front of college coaches, and that's when I knew I wanted to compete at the college level. At one of my team's first showcase tournaments when I was 12, Virginia Tech told my coach they liked the way I played, and I was just so excited. It felt so good to be on the field playing and just having fun, and college coaches liked me. I was so in awe and I knew I wanted to get more colleges interested and play in college.
Q. Do you have a favorite memory from this sport?
A. I'd say my favorite memory was hitting my first grand slam as a freshman.
Q. What are you most looking forward to in college (sports or academics)?
A. I'm most looking forward to being in Nashville, Tenn. because it's such an awesome city. I'm also looking forward to having a group of girls that have my back every single day, and hopefully we can work together to accomplish another Conference Champ title.