The fight for the tiger: an overview of Tigers and Tiaras
On Wednesday, April 27, Independence Student Council Association hosted the school's first ever faculty pageant. The show, called Tigers and Tiaras, featured seven Independence teachers and staff members who competed for the title of "The Tiger."
View this post on Instagram
A panel of five student judges, Max Layman (12), Naeva Shah (9), Nadia Smith (11), Caz Yasutis (10) and Alden Zerkle (11), were tasked with scoring contestants' performances in three categories—spirit wear modeling, interview, and talent. 
"It was a great experience, I really enjoyed being front and center in the audience. The interview part was fun, but the talent was my favorite to judge," said Smith. 
At the end of the pageant, Mr. John Gabriel was crowned as the student-judge winner. His stellar spirit wear, thoughtful interview answers and amusingly accurate recreation of a famous "Napoleon Dynamite" dance scene earned him the title in the judges' eyes.
A second accolade, a fan favorite award, was allotted to Mr. Daniel Kim after voting was conducted by students throughout the day. He too wowed in the spirit wear and interview portions and delivered a highly comical lip-syncing performance to Miley Cyrus's "Wrecking Ball," which featured guest appearances from Ms. Michala Sockol, Mr. Jason Smith and Ms. Vanessa Wagener. 
Though the other contestants did not come out triumphant, they all surely succeeded in entertaining audience members. Ms. Megan Andrews, a joint act of Mrs. Heather Binkley and Mrs. Esther Johnson, Mr. Benjamin Reade, Mr. Mario Saavedra and Mr. Jason Tran all carried out well-executed spirit wear, interview and talent sections. They left students clapping, cheering, and often laughing hysterically at a variety of acts including singing, piano playing, science experiments, and even invisible juggling.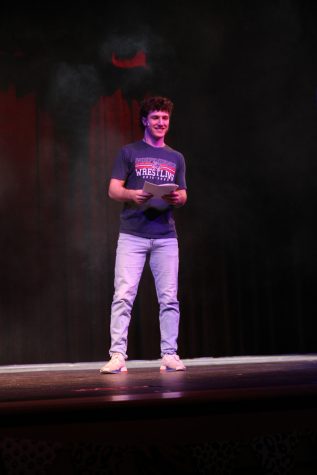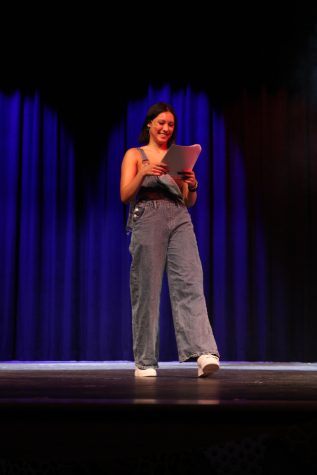 Throughout the pageant, masters of ceremony, seniors Sam Cooper and Sam Scott facilitated the show. By explaining procedures, cracking jokes and hosting trivia centered around the contestants, the Sams kept the operation running smoothly.
Scott reflected, "I really enjoyed MCing for Tigers and Tiaras. It was fun seeing the teachers show their stripes on stage and I also had a lot of fun running around during the trivia section."
All in all, Tigers and Tiaras was a great success and hopefully set a precedent for a lively, humorous Independence tradition for years to come.